R & D
R & D System
Spearheaded by the concept of "eco-friendly development and cost-efficient technology", Meiko's research and development seeks to lower costs and produce a new global standard. These activities are loosely divided into the following three categories:
Development of new products in response to the demands of the current market, as well as technologies to support these products
Development of new technologies for PCBs expected to be created in the near future, and new technologies to make these PCBs commercially practical
Component technologies for PCBs, next-generation PCBs, and special PCBs
In addition to these activities, our research and development also encompasses the creation of technology adapted to mass production, technology for improving quality and reliability, technology for conserving energy and protecting the environment, and the deployment of these technologies at each of our production sites.
A brief introduction to the various areas of development is provided below.
Embedded PCB
Meiko is developing built-in component technologies for fine pitch electrode bear chips and small passive components to further downsize and increase the sophistication of mobile devices. We are also actively conducting development activities for built-in component and simulation technologies that support large electric currents and high heat releasing, in response to increasing needs for automotive embedded power ICs in recent years.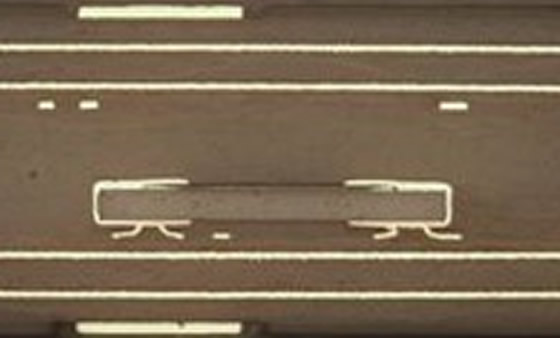 Ultra-Thick Copper PWB
Meiko is developing ultra-thick copper PWBs capable of applying large electric currents by forming a multilayer structure PWB with thicker copper film on wiring layers. We are working on integrally fabricated PWBs by increasing the thickness of the wiring layer and using the same resin material to develop PWB forming technologies that enable both large electric currents to be passed and high reliability.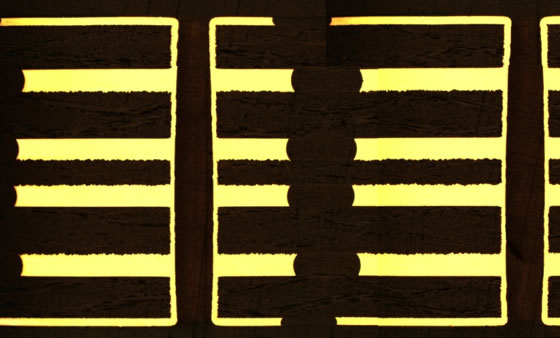 High Frequency Millimeter-wave PCB
Meiko is working to make PWBs thinner and smaller by integrating high-frequency circuits and control circuits. This is achieved by forming a hybrid structure of various high-frequency materials (PTFE, LCP, PPE, and Low-k Epoxy) and general materials (FR-4). We are also working on forming micro via-holes and multilayer of high-frequency materials to achieve higher density wiring. Besides, we carry out in-house evaluations of material properties and transmission properties of new high-frequency materials.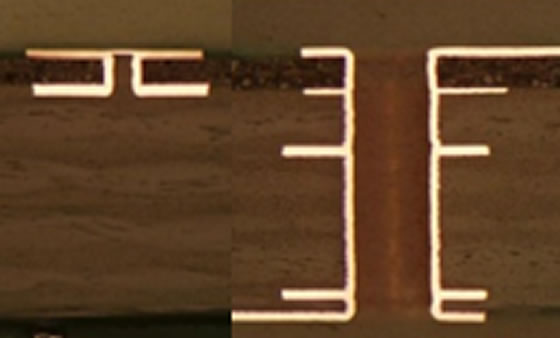 0.3 mm pitch CSP-mounted PCB
As smartphones and other mobile devices become more compact, lightweight, and multi-functional, the use of 0.35 and 0.3 mm pitch CSPs will become widespread. To keep up with this trend, we are developing an all-layer build-up structure adapted to 0.35 and 0.33 mm-pitch CSP wiring, reducing laser via diameter and via land diameter, and creating fine pitch circuit fabrication technologies.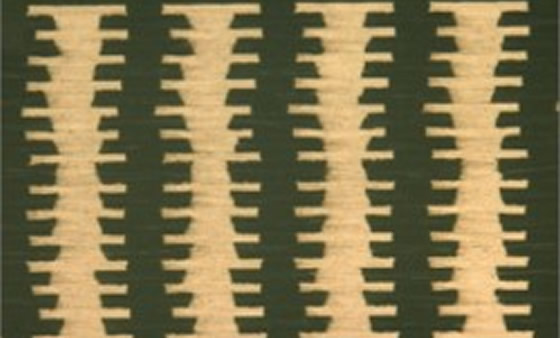 Semi-additive HDI PCB
In the future, CSPs are expected to have increasingly narrower pitches and higher pin counts, meaning wiring capacitance must be improved by increasing the number of wire between CSP electrodes from current one to at least two. To achieve this, fine wiring forming technologies that feature L/S=40/40 μm or less are needed. In the light of these trends, we are developing semi-additive technologies using copper foil to replace the etching technologies currently used.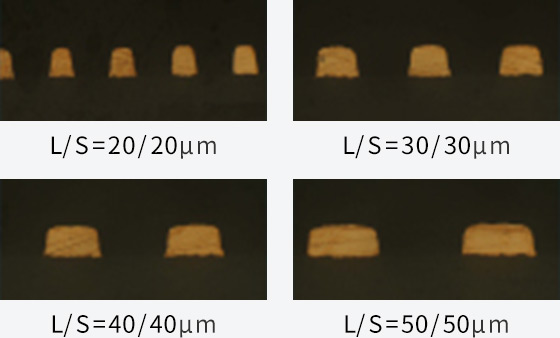 MDiM technology
Meiko conducts basic research through industry-academia-government collaborations on Molecular Direct Metalizing (MDiM) technologies by applying molecular junction technologies. Applying MDiM technologies makes it possible to connect an insulating material with a conducting material at a molecular level, enabling metalizing of low dielectric material films to solve metal adhesion problems, as well as surface smoothing. As a result, MDiM technologies help to improve high-speed transmission properties.