Meiko's Approach to CSR
With customers and operations all over the world, Meiko works in harmony with its environment and communities. We are thankful for this harmony and in turn engage in Corporate Social Responsibility (CSR) activities.
Meiko's CSR Declaration
Meiko's Business Principles and activities align
with the global social responsibilities
and in turn support an environmentally
sustainable society.
Actively expanding and maintaining CSR activities
All of our CSR activities here at Meiko are underpinned by our Business Principles and our accompanying Corporate Charter. We are confident that we can contribute to the creation of a sustainable society by continuing to provide our customers with outstanding value and services via our core electronic PCB operations.
Working and prospering in partnership with our stakeholders
A company's business revolves around interaction with the various stakeholders who have an interest in the company. Here at Meiko, all of our employees around the world recognize that CSR is central to every aspect of our business activities and fulfill their responsibilities at the local level as a member of society with the aim of establishing trust in the company.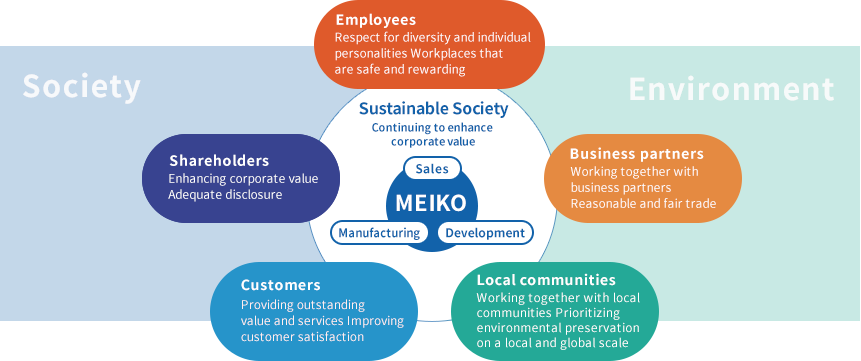 CSR promotion framework
Our CSR promotion framework is made up of site-specific committee members representing individual plants, sales offices and other premises and area-specific committee members operating on a groupwide basis. This makes it possible to organize activities covering all areas of the group's operations in line with our CSR Declaration and respond in good faith to input from our stakeholders.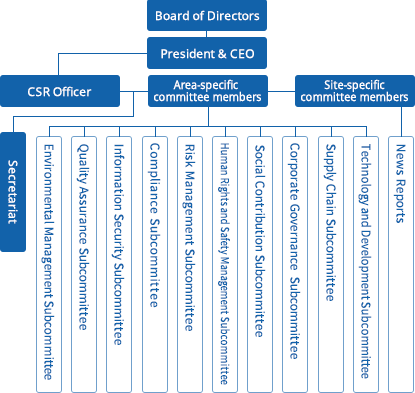 Conducting CSR activities throughout our value chain
Meiko fulfills its corporate social responsibility in the full range of its business activities, through materials procurement and manufacturing, as it delivers products to customers, and achieves further improvements through research and development. By conducting consistent CSR activities throughout our value chain, Meiko strives to conduct its business activities in a manner worthy of the trust of all relevant stakeholders.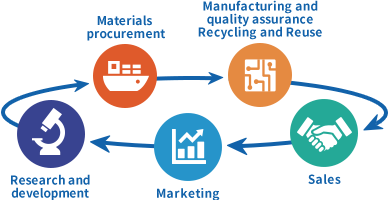 Conflict-Free Procurement Policy
In August 2012, the U.S. Securities and Exchange Commission (SEC) adopted the rules on conflict minerals under the Dodd?Frank Wall Street Reform and Consumer Protection Act. This launched a study on the minerals (gold, tin, tungsten, and tantalum) originated in the Democratic Republic of the Congo and adjoining countries to identify minerals of which trade profits may lead to human rights abuses and environmental destruction. Meiko is eliminating conflict minerals from its supply chains. Meiko has defined a Conflict-Free Procurement Policy which consists of using EICC/GeSI questionnaire-based surveys, response disclosure, and follow-up actions to eliminate resource procurement which includes conflict minerals.