FR4-FLEX/M-VIA Flex®
FR4-FLEX/M-VIA Flex® is rigid-flex PCB without polyimide and can be utilized for applications that do not require repeated bending. Meiko has two types of Rigid-Flex PCB without polyimide, and FR4-FLEX achieved low-cost and high-reliability PCBs by using ordinary FR-4 only as the primary material. On the other hand, M-VIA Flex® improves flexibility by combining RCC and FR-4 as primary materials.
FR4-FLEX/M-VIA Flex® can be used as an alternative to connectors to reduce process load and cost by reducing connectors.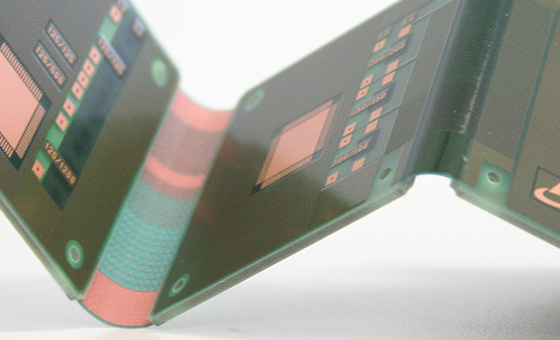 Features
Reduction in process load and cost by reducing connectors
Offer of the three-dimensional structure and larger capacity of multiple memories
Zo design of flexible sections and improved transmission quality
Applications
FR4-FLEX
Automotive devices
Amusement
M-VIA Flex®
Consumer devices
Mobile terminals
Explanatory Drawing

Design rule
Parameter
Symbol
Standard Spec
Line width/spacing
A / B
≧0.15mm / ≧0.15mm
Conductor thickness outer/inner layer
C / D
0.051mm / 0.035mm
Dielectric thickness
E
0.1mm
Minimum radius of flex
F
≧3.8mm
Thickness of flex
G
0.20 - 0.24mm
Width of flex
H
<160 mm
Length of flex
I
6.0mm
(90deg)
8.0mm
(120deg)
Conductor length in rigid part
J
≧1mm
Spacing between conductor and flex
K
≧1mm
Spacing between SR-opening and flex
L
≧0.5mm
Spacing between TH and flex
M
≧2mm
Spacing between flex SR and flex
N
≧0.5mm
Overlapping of flex SR
O
≧0.5mm
These figures are merely settings. They are subject to change without notice.
Search by application
Please select a detailed category
Please select a detailed category
Please select a detailed category